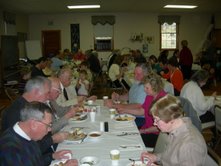 We, as members of the body of Christ at the Falling Waters Presbyterian Church…
…strive to be an extended family – reaching out to one another, our community, and the world. In offering ourselves to this sacred mission, we will show the way of Christ so that the community and the world in which we live may learn "to do justice, to love mercy, and to walk humbly with God."
People consider many things when visiting churches.
And those seeking opportunities to serve.
What you may be seeking could be dramatically different from the next person – or it could be exactly the same.
With open doors and open hearts… our congregation covers many generations, among which are people of every stage of faith. We welcome those seeking to know God, regardless of questions, baggage, or plain old life experiences.
Whatever you're looking for… you mean something to God. As God's church, you mean something to us. You are always welcome here.