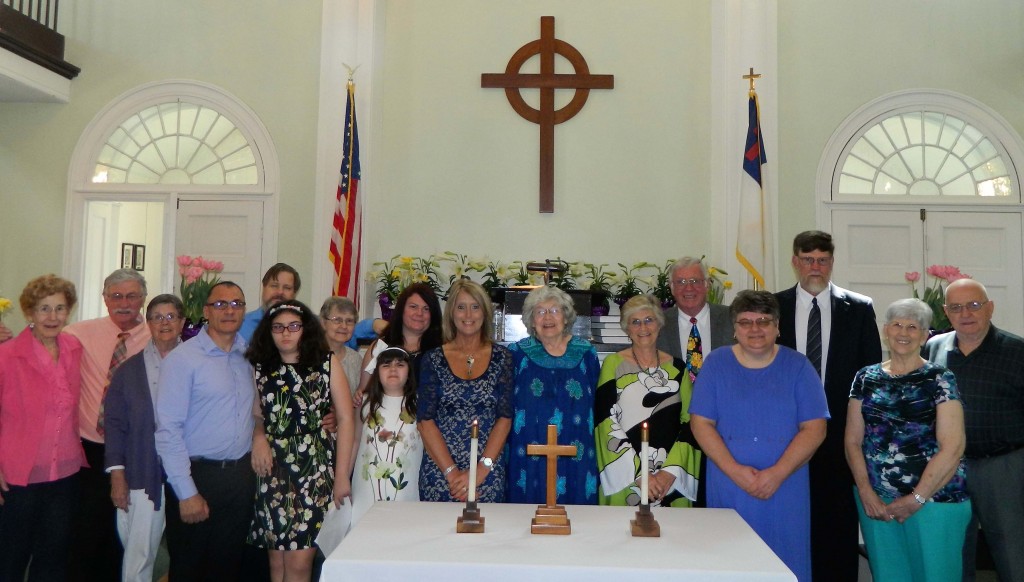 Posing on Easter Sunday (left to right): Betty Jane Porterfield, Steve and Sara Tamplin, Orlando Gois with Abigail Howard Gois, John McKune, Marjorie McKune, Lita Howard-Gois and Alison Howard Gois, KristieRedding, Bev-erly Howard, Judith and Bill Lawrenson, Brenda and Robbie Cloud, and Joan and Don Campbell. (Abigail and Alison became baptized members.) Not pictured: new members Pat and Sherry Dockeney.
The Session presented 17 new active members and two baptized children, many of them with family con-nections at Falling Waters Presbyterian Church, to the congregation on April 10. "Wow, that's a lot of new members," many remarked!
All new members had attended a "Come and See Conversation," a class designed to introduce our congre-gation and the meaning of active church membership—before they were received by the Session on April 2. We are eager to get acquainted as we welcome them in worship and service. So here's a start to learning about our brothers and sisters in Christ:
Don and Joan Campbell, moved back to Falling Waters from Florida, where they were members of the Lady Lake United Methodist Church. They are parents of our members Jeff Campbell and Lynne Everhart. Now retired, Don worked in construction and Joan in banking.
Robert (Robbie) and Brenda Cloud come to us from Little Falls Presbyterian Church, where both have been ruling elders and active in many facets of church life. Robbie grew up in this congregation, and is the son of James Cloud and brother of Jimmy Cloud. Robbie is a farmer, specializing in Charolais cattle, and Brenda is a nurse.
Pat and Sherry Dockeney, joining from Little Falls Presbyterian Church, cherish the memory of their daughter' s marriage at Falling Waters Church. Pat was a ruling elder and choir member at Little Falls. Pat worked for AT&T for 20 years and then retired from Orgill. Sherry still enjoys working with alternative learning for the Washington County Public Schools in Hagerstown.
Orlando Gois and Lita Howard-Gois, come to us from Hedgesville Presbyterian, where Lita was ordained a deacon and her dad, Pastor Carl, was pastor.
Lita is a RESA-8 teacher, and Orlando is an IT technician for the U.S. Sentencing Commission (Department of Justice) in Washington, D.C. Daughters Abigail, 11, and Alison, 9, also became baptized members of our church. Abby was baptized at Our Lady of the Snows Catholic Church in Almeida, Portugal, Orlando's home town, while Alison was baptized by her grandfather at Hedgesville Presbyterian.
Beverly Howard, partner of Pastor Carl for 49 years . . . so far, was a member at Little Falls Presbyterian Church. Besides being a pastor's wife, she also was a Foreign Service wife for 32 years—speaking fluent Spanish and Portuguese—and a State Department educational exchanges officer before that. She is an ordained ruling elder and deacon.
Bill and Judith Lawrenson, recently moved to Wil-liamsport from Hilton Head, S.C., to be near their son and his family—especially their grandson. Judith was a ruling elder at their church, First Presbyterian Church of Hilton Head, and she and Bill—among other things—spearheaded a stewardship campaign at that 900-member church. Bill, a native of South Africa, handled start-up companies "going public" in Silicon Valley while Judith managed learning disabilities education in a 29-school parochial school system. They are veteran sailboat enthusiasts.
When Pastor Debra and her husband John moved from Indiana, his parents moved along. They are Rev. John E. McKune and Margy (Retired pastors like John remain members of a Presbytery, not a local congregation.) The McKunes—both generations—found a house with an adjoining cottage in Williamsport, which suits their needs nicely. John Sr. was a Presbyterian Synod executive. Margie is an ordained ruling elder.
John D. McKune, our pastor's husband, is actively engaged in an information technology business that services commercial network providers. He was a member of Boyds Presbyterian Church in Boyds, MD.
Bettie Jane Porterfield, who was baptized in our church and is a Newkirk descendant (a family associated with the very beginnings of the congregation), recently moved back after 38 years in Georgia and Florida. She was a member of Countryside Presbyterian Church in Ocala, FL. Bettie Jane was twice married in our church. She and her late husband, David Porterfield, always kept in touch with Falling Waters church, returning twice a year. Kirk Chambers is a nephew.
Kristie Redding and her husband Steve, started attending Falling Waters Church with her dad, Sam Tobin. Steve, a Catholic, also regularly takes his parents to Mass at their church. Kristie is a homemaker, and Steve, an attorney, is with the Public Defenders Office.
Steve and Sara Tamplin, who have been singing with our choir for some months now, were members at Hedgesville United Methodist Church. Steve is an international consultant on public-health issues after working 18 years for the World Health Organization. He and Sara lived and worked in the Philippines for 14 years. Sara, an educator, has taught in various locations, including Seoul.
– – – – – – – – – – – – – – – – – – – – – – – – – – – – – – – – – – – – – – – – – – – –

Nadia Ayoub is a PCUSA missionary to one of the most deprived peoples in Europe, the Roma (or gypsies).]
Dear friends and churches in the Panhandle:
Peace and grace to you all from our risen Lord. Thank God for his steadfast love for us in all situations of life. Thank you so much for your prayers, encouragement and support. I pray this message finds you and your families well and cele-brating Easter. I thank God for Easter celebration in a spe-cial way this year— it gives me more understanding for what is happening in the world and in Egypt. [Note: Nadia was born in Egypt, and became an American citizen.] An Egyptian official, fearing what could happen, asked that the resurrec-tion of Jesus Christ not be celebrated. But the churches, the body of Christ still celebrated the resurrection, with their eyes full of tears.
The whole community in Karpatalja (where Nadia serves) was very distressed since April first, Seres Janos, Jr., the older son of Pastor Janos, the previous presbyter of the Peterfolvo area, was in a motorcycle accident and was taken to nearby Hun-gary; he died there but they did not release his body till April 10. Only on April 11, were we able to have the funer-al. That was a very long and painful time to wait for the fu-neral. Seres Janos Jr started the Roma mission work with me, from May to August of 2011.
The resurrection is our assured hope. Yes indeed, Christ the Lord is risen. I was encouraged to write when I watched the celebration of the Evangelical denomination in Cairo – Egypt and they sang Charles Wesley's song: Christ the Lord is ris'n today, Alleluia! Sons of men and angels say, Alleluia! Raise your joys and triumphs high, Alleluia! Sing, ye heav'ns, and earth reply, Alleluia! Alleluia!
I pray you have a joyful and blessed Easter. Yours in the Risen Lord, Nadia