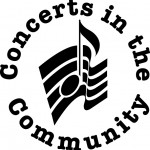 Concerts in the Community
Information and Concerts Schedule
The purpose of Concerts in the Community is to provide a variety of music at a reasonable cost to patrons. We are a nonprofit organization. All proceeds from ticket sales are used toward the expenses of the concerts.

All concerts are held at:
Falling Waters Presbyterian Church
2928 Hammonds Mill Road (Route 901)
Hedgesville, WV 25427
Unless otherwise noted, all concerts start at 3:00 p.m.

2017-2018 Concert Season
The Berkeley Community Chorus. A variety of choral music. May 20, 2018. 3:00 p.m.
Ticket prices: Adults $5.00; Students K-12 $3.00; Children age 4 and younger get in free, but we do ask that you ensure that any young child isn't disruptive. We have open seating on a first-come, first-served basis. There is seating in the balcony when the mail floor is full.
Tickets are available at the door. Doors open 45 minutes before the concert and we strongly advise that you arrive early to buy tickets. If you would like to order tickets in advance, you must send payment 2 weeks in advance to allow time for the tickets to be mailed to you. Call or email Kate Lewis Brown for the address to which to send payment:
Kate Lewis Brown
304-754-5039 or
email to concertsinthecommunity@comcast.net
Handicapped parking spaces are very limited but patrons may be dropped off at the door.
Subscriptions: We offer season subscriptions to Concerts in the Community. There are two types of subscriptions for the 2017-2018 season. (1) Subscriptions for 4 concerts of your choice cost $25.00; (2) subscriptions for all 5 concerts are $30.00 per person.  Subscriptions will entitle each person to a seat in the reserved center seating and one free student ticket. If you are interested in being a subscriber, or have questions, please email concertsinthecommunity@comcast.net or call Kate Lewis Brown at 304-754-5039.
Wheelchair patrons: please call Kate at the number above before the date of the concert so we can save a place for you.
Upcoming Concerts
May 20, 2018 – The Berkeley Community Chorus