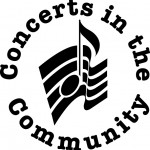 Concerts in the Community
Information and Concerts Schedule
The purpose of Concerts in the Community is to provide a variety of music at a reasonable cost to patrons. We are a nonprofit organization. All proceeds from ticket sales are used toward the expenses of the concerts.

All concerts are held at:
Falling Waters Presbyterian Church
2928 Hammonds Mill Road (Route 901)
Hedgesville, WV 25427
Unless otherwise noted, all concerts start at 3:00 p.m.

2017-2018 Concert Season
The Blue and Gray Chorus: Barbershop harmony. September 10, 2017
Elisabeth Von Trapp: Granddaughter of Baron and Maria Von Trapp (Sound of Music). October 27, 2017. Note: 7:00 p.m.
D'Amore Duo: Guitar/Oboe. November 19, 2017.

Ticket prices: Adults $5.00; Students K-12 $3.00; Children age 4 and younger get in free, but we do ask that you ensure that any young child isn't disruptive. We have open seating on a first-come, first-served basis. There is seating in the balcony when the mail floor is full.
To order tickets call:
Kate Lewis Brown
304-754-5039 or
email to concertsinthecommunity@comcast.net
Handicapped parking spaces are very limited but patrons may be dropped off at the door.
Subscriptions: We offer season subscriptions to Concerts in the Community. There are two types of subscriptions for the 2016-2017 season. (1) Subscriptions for 4 concerts of your choice cost $25.00; (2) subscriptions for all 5 concerts are $30.00 per person.  Subscriptions will entitle each person to a seat in the reserved center seating and one free student ticket. If you are interested in being a subscriber, or have questions, please email concertsinthecommunity@comcast.net or call Kate Lewis Brown at 304-754-5039.
Upcoming Concerts:
September 10, 2017 – The Blue and Gray Chorus
October 17, 2017 – Elisabeth Von Trapp
November 19, 2017 – D'Amore Duo